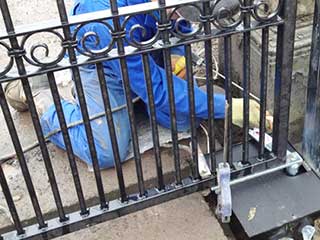 A new gate installation may seem daunting, but there's no need to worry. Our highly experienced team will take all of the stress out of your hands and handle the project from beginning to end. We will begin with helping you assess which make and model best suits your needs. To ensure you make an informed decision, one of our knowledgeable technicians will inspect your property for uneven terrain or obstructions and ensure you select the perfect gate.
Wooden Versus Steel Gates
When undertaking a new gate installation, you will first have to decide whether you would prefer a wooden or steel gate construction. Wooden gates provide a rustic appeal but are relatively high maintenance while on the flip side steel gates are durable and low maintenance but prone to rusting. Our knowledgeable team will help you make an informed decision before installing your chosen gate.
Opener Installation Services
Would you like a more advanced opener for your existing or newly installed gate? Our local team of professionals will install your new unit efficiently and fuss-free. From electric swing openers to sliding gates and beneath-ground units, our comprehensive service covers not only the motor unit but also hardware parts and preferred add-ons. We will get your system operating at its full potential from the moment of installation.
Intercom System Installation
Our professional team can set-up and program any brand or model of intercom system. From a basic voice system using a transmitter and receiver to a more advanced and high-tech system offering facial recognition and live video footage, we have got you covered.
Service You Can Trust
Our team can give you all the information you need to help you choose your gate system. For all your planning, installation, repairs, and maintenance needs, and to get your new system up and running efficiently, contact the Gate Repair Burbank, CA team today.
Our team can also take care of:

Parking Garage Gates

Rotten Gate Repair

Doorking Gate Intercoms

Elite Gate Opener