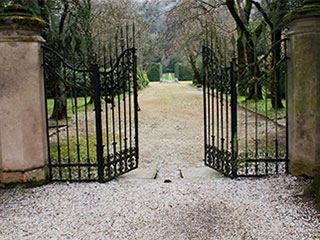 Automatic operations of various machines have changed our world completely, established new prerequisites for safe homes and enabled people to have more free time. At first glance, an electric gate may seem like the absolute solution for home security. But is this type of system really as convenient as it's supposed to be? Why do some people still choose manual gates?
The Manual Option
The difference with manual gates is that their mechanism is a lot simpler. Mainly, it does not involve an electro-mechanical motor that powers the movement of their doors. They can certainly be very reliable and, just like their automatic counterparts, are usually made out of wood, iron or steel in various types and designs. Their greatest advantage is that their maintenance service is a bit simpler, as it does not involve dealing with electrical components and moving gears and such.
Manual Gate Maintenance and Operation
You still have to be careful with repairs but you'll have a more clear view of the problems and solutions, as the range of potential issues will not be as wide as it can be with an automatic system. Greasing the hinges of a swing gate or lubricating the wheels of a sliding type system is still very necessary and useful. The worst trait of manual systems is clearly evident when you compare them to systems that use an electric gate opener. When your hands are full and you're in a hurry, you will have to find a way to open the gate yourself or have someone else do it for you. If you're in your car, you'll have to get out, move the barrier doors, then get back in your car, drive through, and then get out and close the gate back up after you. That's a lot of hassle that's rather easily avoided with an automatic electric system.
The Potential Cons of Automatic Gates
This type of system is definitely far more complicated due to the existence of various electrical components and a motor unit. Consequently, servicing this type of system requires broader knowledge and skill, and an electric gate repair service specialist will be required to handle things when problems arise. Of course, with the existence of more intricate components, there also exists the possibility for more issues. Anything from misaligned safety sensors to bad circuitry boards and other mechanical or electrical malfunctions can occur due to the complexity of the mechanism and the wear and tear it goes through.
The Main Benefits
Automatic gates offer fast access and easy access that takes no more effort than pressing the right button. There are many different types of remotes and you can even choose a wireless gate opener keypad, which works with personal codes. There's even the option of using your own smartphone to control the system. Of course, with an automatic system, you can also install a gate intercom, so that you can check who's waiting on the other side and decide whether or not to let them in without being anywhere nearby.
Have More Questions?
Our experts at Gate Repair Burbank will happily provide all the information you're looking for. If you want to add security and curb appeal to your property with a new wrought iron or steel gate, or to enhance your existing system with a wireless intercom or any other special feature, give our team a call.