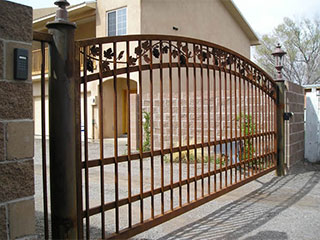 Before you have a new gate installed you need to first think about your property's requirements and your specific preferences. This is often a big investment, so you should take some time to consider all the options and different combinations. There are certain requirements like available space and environmental conditions that will determine which type and material are going to be better suited for your needs.
The Size Factor

Size should play a huge role in your decision-making process because it would influence the price and your future convenience or inconvenience. It's vital to consider the size of your vehicle in comparison to the available space in your driveway. A swing gate, for example, opens and closes inwards or outwards, like a regular entrance door, and it requires room to move without risking hitting passersby or your own vehicle. A sliding gate needs to have room on the sides of your driveway, or at least one of its sides, that is, in order to open and close smoothly. Naturally, the bigger the gate, the more space it will require.

Consider The Intercom System

Getting a gate intercom system installed is a major quality of life improvement, and it can also save you time and effort in the long run. There are several different types, but mainly those can be divided into two categories - wired and wireless systems. Each one has other attributes. Wireless intercoms don't have cables stretched all over the place, which means that falling branches and other wind-blown debris aren't likely to cause any problems. However, signal interference can be an issue, and they also tend to be a bit more expensive on average.

The Right Material

Last but not least is the choice of the proper material. This decision should be based on your budget and local weather conditions. If you can afford wood panels, it would be an excellent choice but you need to know beforehand that they can cost you more than other options, both in terms of initial price and in terms of frequent maintenance, which this material tends to require. Wrought iron gates also need repainting, but they are stronger, and when fashioned with an ornate design, can add a lot of luxury and curb appeal to your property.
If you're looking for some help, or have some questions you'd like a professional to answer, get in touch with Gate Repair Burbank today.