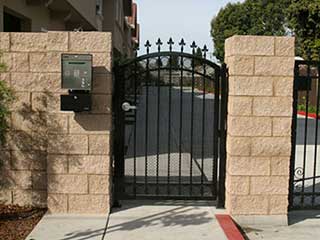 To put it simply, an intercom is a communication device that connects two or more nearby devices, like a very small telephone network. There's a lot of variety within that category, from simple two-way wired devices to elaborate wireless systems with multiple access points and smartphone apps to go with them. This type of system can add a lot of functionality and convenience to your gate, but only if it's working properly.
Failure To Communicate
Probably the most frequent issue with gate intercom systems is a failure for the signal to transfer from one end to the other. If you have an old fashioned wired system, the wire is vulnerable to fraying, cutting, and other physical damage. Wireless systems tend to be more reliable, but signal dead zones, inclement weather, and other electromagnetic interference can still cause them trouble. Our team is familiar with both types of connections and can be counted on to identify the problem and help you repair it.
Hardware Damage And Protection
One end of your phone entry system is safely tucked away inside your house or business, but the other end – or ends, if you have more than one gate – are going to be outside and exposed to the elements. An intercom node can take serious damage if moisture, dirt, or insects find their way inside, and there's always the risk of vandalism. In addition to repairing damaged gate intercoms, our team can give yours a protective housing that will better protect the device without reducing its functionality.
Intercom Installation Service
If you don't have an intercom for your driveway or walkway gate, you should think about getting one installed. These sort of systems make managing your property much safer, easier, and more convenient, and will make getting in and out a more pleasant experience for your family and friends as well. Our technicians will be happy to get you hooked up.
Call Us Today
Our company provides gate and intercom services anywhere in Burbank and nearby areas. If you're looking for expert services at affordable prices, contact us and book an appointment with our professional technicians.