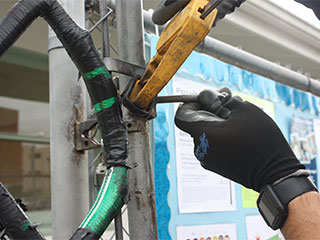 No matter if your system needs realigning, your opener has stopped working, or your gate simply will not open and close properly, we have the solution. Contact our friendly local team, today!
Fixing Your Sagging Gate
A drooping gate will most likely require a professional to get it back functioning efficiently. Sagging in steel gates is often caused by bad welding, while improper support or rot are the most common culprits for a droopy wooden gate. In most cases, these issues can be improved with reinforcements such as posts and struts, which should improve alignment, rigidity, and ease of use.
Hinge Maintenance And Repair
Swing gates are heavy, and therefore their hinges are under great stress. Even with sufficient hinges in place and strong welds, they may give way along with the post. If this occurs, call our local team for an emergency replacement. Better yet, make an appointment today, and we can reinforce any weak spots in your gate system to prevent a larger scale automatic gate repair further down the line.
Broken Openers Are An Inconvenience
Automatic gates offer security and convenience. A large part of this convenience is provided by your gate's remote control opener. However, these openers are subject to wear and tear and may malfunction causing your gate to stop operating properly. Don't suffer through this alone, call our expert team and we'll get your system running smoothly again.
Repairing Your Automated System
Your gate's opener unit and sensors are responsible for your system's automation. If either of these parts malfunction, your gate could fail to operate properly. As a result, you may have to manually open and close the gate every time you wish to enter or leave your home. There's no need to put up with this inconvenience. Call our local team of expert automatic gate repair technicians today.
Call The Experts
Carrying a full range of spare parts and all the necessary skills for the job, we'll have your gate back up and running in no time, no matter the issue! Contact Gate Repair Burbank, CA to make an appointment today. Click here!
We also offer:

Phone Entry Systems

Multicode Remote

Wrought Iron Gates

Gate Wheels Repair