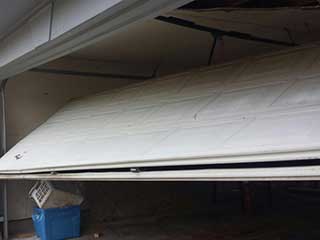 As annoying and inconvenient as it is, sometimes your garage door can stop working correctly. The cause of the problem can be a multitude of reasons, like a broken spring, misaligned safety sensors, or even damage to the hardware parts, like the panels or the tracks. Whatever the case and whatever the reason, you can count on our professional technicians to provide the effective solution you need.
When The Springs Are Involved
Any issue that somehow involves your garage door springs should be left to the experts. Whether its tension adjustment that's required, or a broken spring replacement, dealing with these units can be very dangerous. So dangerous, in fact, that mishandling these tasks can lead to serious injuries. Lubricating them is as far as you should go when it comes to spring maintenance. Leave the rest to us.
Door Got Stuck
If you find it hard to get your door to open, or if it seems downright impossible to do so, then there could be a few possible problems. The motor unit's circuit board could have been damaged, or some of the wires had detached or fried, leading to a failure to function. The hardware parts could also be responsible, as the chain drive or the belt drive (whichever one you have) could have broken or torn. Of course, those aren't the only possible culprits. Blockage in the tracks, or bent sections, could prevent the rollers from moving, thus keeping the door from opening properly. Count on our experts to quickly come over and troubleshoot the problem. Once our team locates the source, you can rest assured that our technicians will then proceed to repair your door in the shortest time possible.
Waiting To Help
Our commitment to same day service means that when you contact our team here at Gate Repair Burbank you won't have to wait long for help to arrive. Get in touch with us today and let our professionals make sure that your garage door is back to its peak operating condition.