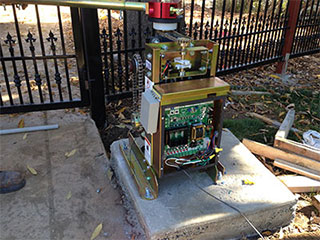 Also known as an operator, the opener is the motorized device that allows an automatic gate to open automatically, when commanded to do so via some type of compatible remote control unit or app. A problem with the wiring, internal circuit boards, or the motor itself, can prevent your gate opener from working, and subsequently hinder your ability to get in and out of your driveway when you need to.
Openers For Every Gate
A different type of unit is needed for different types of systems. The way the mechanism moves will determine what kind of unit will be required. Sliding gates are typically pulled by a chain, belt, or robot arm, while swinging gates rely on powered hinges or sliding arm systems. Each type of opener has different failure points, and it can be bewildering for a layperson to learn the nuances or to try and troubleshoot the problems when something goes wrong. With professional assistance from our technicians, though, no malfunction is unsolvable.
Quality Products Only
If you need a new gate opener, our team is here to help you choose the best model for the job. Our company can works with trusted, high-quality opener manufacturers, including Eagle, Doorking, and Liftmaster, and you can rely on our experts to find the product that best fits the type and weight of your system. Whether you're replacing an old unit or setting up a brand new automatic gate system, our skilled installation technicians will do everything they can to meet your complete satisfaction.
Let's Not Forget The Sensors
Modern automatic gate opener models are designed to work with optic safety sensors that prevent the system from closing if there's someone or something in the way. These photo eyes can be finicky devices, and misalignment or small scratches can have serious consequences. If your system is acting strangely or failing to respond to obstructions like it used to before, you may need to have these units checked to ensure their working correctly.
Emergency Repairs and Scheduled Appointments
Our company offers residential and commercial gate repair services to properties located anywhere near Burbank. When you decide it's time to replace your old opener with a new and more modern model, or if you suddenly discover something's wrong with your gate, give our team a call.
Want more? Let us take care of:

Residential Gate Repair

Ornamental Iron Gates

Aiphone Gate Intercoms

Gate Remote Program