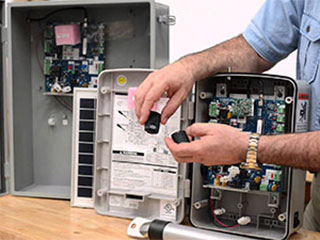 If you want your automatic gate to last for as long as it can, then you need to make sure that it undergoes regular maintenance. It's up to you, as the owner, to be aware of the main threats to the structure and operation of your system, and to ensure any issue that arises gets resolved as quickly as possible. Problems with these types of systems tend to have a knock-on effect that casuses other parts to wear out quicker or start to malfunction when issues are neglected. Unfortunately, there are various different factors that can cause some trouble for your gate and troubleshooting them isn't always intuitive.
Problems Caused by the Weather
Rain and snow are undoubtedly the main culprits when it comes to weather damage. Moisture can easily creep into the control box or into the gate opener keypad and cause damage to the sensitive electrical components. Given this, both features have to be properly sealed. If you notice any casing cracks or chips, you must provide the necessary repairs immediately, to prevent the situation from worsening. Moisture can also damage different metal parts, from swing hinges to sliding chains. This type of damage is quite easy to recognize with the sudden increase of squeaking noise and the visiual evidence of rust specks.
Damage Caused by Debris
Debris can cause quite a lot of trouble and can interfere with the gate's operation. Things like leaves, twigs, and pebbles can create a blockage in the track and prevent the wheels of your sliding gate from moving. Strings, nylon strips and parts of paper shopping bags can also gradually become a problem, and it's important to ensure that the area around your driveway is clean and clutter free.
The Pest Problem
Small animals like ants, spiders, slugs and lizards will try to find their way into the control box to get warm. There, they may damage the electrical components, like the wiring and the circuit boards, which in turn can affect the system's performance. The safety loop sensors are at greater risk as they usually produce heat while being quite delicate. Smudges on the lenses can cause them to fail to work when needed, so checking their condition and alignment on a regular basis is vital. The best way to protect these and other components from damage is to seal all holes of the control box and inspect it for cracks and chips regularly.
Protect Your Electric Gate
You should do everything you can to ensure your system stays in great shape in order to get the most out of it. If you encounter a problem with any of the mechanical or electrical components, give Gate Repair Burbank a call to have our experts quickly fix it.